NM-HIMSS: Using Technology to Improve Population Health with Deborah Helitzer, ScD, Professor and Dean of UNM College of Population Health
Time: 11:30am     Day: Tuesday     Doors: 11:15am     Ages: All Ages     Price: $15 - $25
Interested in learning about population health, workforce needs, and the opportunities for technology to address the needs of population health?
UNM Professor and Dean, Deborah Helitzer, will lead a discussion of how the new College of Population Health can address the population health needs of the business community, and how the business community can work together with the College to provide opportunities for students to learn about technology-related business opportunities within the state. Attendees will walk away with a better understanding of how technology can address health needs and how they can use technology to improve the health of our community.  
Learn more about the University of New Mexico College of Population Health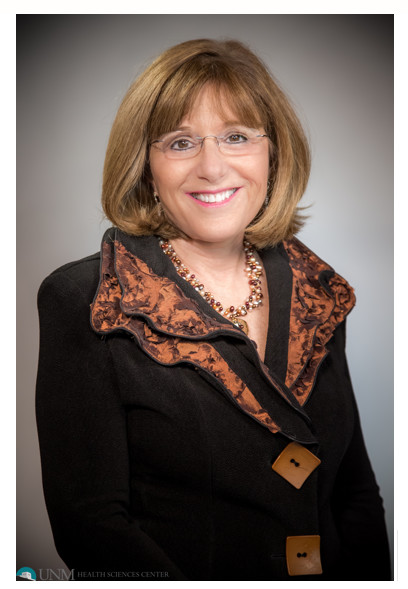 Deborah Helitzer is a professor and the founding dean of the UNM College of Population Health.  She received her doctorate from Johns Hopkins School of Public Health in 1989. She conducted her doctoral research in Malawi, Africa, on the barriers to malaria chemoprophylaxis in pregnant women. While in the Department of International Health, Division of Health Systems at John Hopkins, she also led a study on the predictors of AIDS among adolescent girls in Malawi. In 1995, she came to UNM as an assistant professor at the UNM Master of Public Health (MPH) Program. Over the years, she has held a number of posts and leadership positions within the university including: vice chair for research for the Family and Community Medicine program, assistant dean for research, assistant/associate dean for research education; and associate vice chancellor for research education. In 2011, she was asked by former UNM President Bob Frank to lead the development of a new College of Population Health.  At that time, the national focus on population health was growing and the importance of wellness and disease management became a primary focus.  Health system reform required improvements in quality, efficiency and cost-effectiveness of health care.  A new workforce is needed, one that can meet the needs of health system reform, which will include, in addition to health providers, experts in behavioral economics, data analytics and the incorporation of health technology into community health and well-being. In September 2015, the UNM Regents approved the College of Population Health.  It began its new Bachelor's of Science in Population Health in the fall of 2016.
Lunch is included in the ticket price.